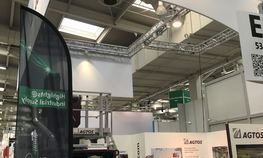 May 2017
2017-05-01
Together with 8 other companies, AGTOS was exhibiting on the joint stand of the VDMA in hall 6. Many customers, mostly international, were searching for information about new developments in the blasting technology.
Special attention was given to the exhibited drum shot blast machine. Additionally, a jury selected this machine to be a highlight of the fair and marked it with a banner.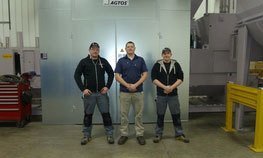 April 2017
2017-04-03
Recently, a wire mesh belt shot blast plant has been successfully installed for the automotive supply industry in the USA and handed over to the costumer. Mario Hintzen and Julian Klemm from the AGTOS team are pleased about the good team work with the costumer.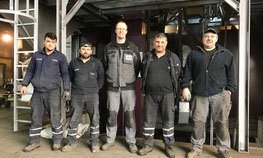 March 2017
2017-03-17
A large shot blast plant is currently being installed in a foundry in Turkey again. We are talking about a continuous overhead rail shot blast machine with 4 turbines each with 30 kW drive power. It can treat work pieces and work piece hangers up to a width of 1,70 m and a height of 2 m. We are very happy about the good installation progress in this German-Turkish project!
Euroguss 2018
16 - 18 January 2018
Nürnberg, Germany
Die Casting


ALUMINIUM
9 - 11 October 2018
Düsseldorf, Germany
Aluminium industry
Hall 12, Booth: I20
EUROBLECH
23 - 26 October 2018
Hannover, Germany
Sheet Metal Working Technology