March 2017
2017-03-17
A large shot blast plant is currently being installed in a foundry in Turkey again. We are talking about a continuous overhead rail shot blast machine with 4 turbines each with 30 kW drive power. It can treat work pieces and work piece hangers up to a width of 1,70 m and a height of 2 m. We are very happy about the good installation progress in this German-Turkish project!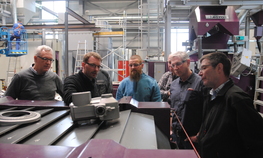 March 2017
2017-03-06
Interested plant managers and operators recently visited our facility in Emsdetten. On this occasion they were informed about the advantages of pre-blasting casted work pieces with the AGTOS Ricochet blaster.
Sales engineer Andreas Sterthaus (2. f.l.) presented the concept and was able to convince our guests with some blasting trials. This machine is one of several AGTOS shot blast machines which are available for testing purposes.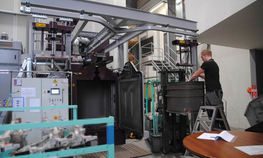 HANNOVER MESSE 2017
24 - 28 April 2017
Hannover, Germany
Industrial technology
Hall: 6, Booth: E46/08
Metallurgy Litmash
5 - 8 June 2017
Moscow, Russian Federation
Foundry / Surface
Hall: 01, Booth: 1F35-1
Euroguss 2018
16 - 18 January 2018
Nürnberg, Germany
Die Casting

ALUMINIUM
9 - 11 October 2018
Düsseldorf, Germany
Aluminium industry
Hall 12, Booth: I20